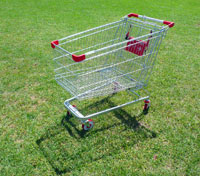 You may have played the game for a long time and never heard of them…
If so, I urge you to read this!!!
Pressure points could improve your game forever and simplify a lot of things in your swing by focusing your mind on feel rather than technique. As a bonus, once you learn to rely on your pressure points, the game of Golf becomes more of a sensation than a mechanical cheklist!
But for the moment, think about this for a second: In order to move something like a shopping cart you need to push against it with your hands (actually, you could also pull it, but for simplicity stakes, let's stick to pushing…).
While you push the cart, you feel a pressure in the point(s) of contact of your hand(s) against the handle of the cart: These are pressure points.
In the Golf swing there are 4 distinct pressure points (more on that in another article) but again, for simplicity stakes, we will focus on the easiest and more convenient to feel: the meaty part of your index (the "trigger finger") of your trailing hand where it touches the club.
Here is the trick: Are you able to perform a Golf stroke while feeling pressure in this index from start down to both arms straight (the end of the follow-through and before the finish)???
Even better: if you can feel this pressure not decreasing (unrelentless pressure), I bet my shirt you must be a 1 digit handicap as you must have Lag in your swing with all the good things that come with it!
Poor players have almost no pressure feel at all because they are "running after the club", exactly as you would run after your cart after having pushed it violently: the pressure against the handle was very strong the moment you pushed hard but disappeared as the cart when away from you (you can't push something faster you can run!).
A player who casts the club (club head throwaway) does exactly that: he feels a lot of pressure in the start of the downswing (by accelerating the club very hard and convulsively). Such a sudden accelartion thows the club away with no chance to catch it up before impact.
Needless to say, that player feels no pressure at all in the index finger when the club head arrives at the ball.
The correct way to do it is to push your cart evenly with no over-acceleration.
The correct feel is a pressure in the trigger finger that is even and present from start-down to follow-through. Light or heavy pressure doesn't matter. The important thing is that it must be there and steady.
A Tour Player's feels exactly that. But imagine he is able to put and keep (most important!) a LOT of pressure in the trigger finger: harder to sustain during the swing but highly rewarding in terms of ball compression/distance/control.
Sounds easy to practice? Next time you go to the range, spend a bucket of ball focusing on that pressure. Start with half swings as it is easy to feel with shorter backswings.
Oh, by the way: This is how Lag feels; it's a pressure in your hands!!! – The more unrelentless pressure you feel, the more Lag you have!
And if you are a Golf nut like us, look for the feel the next time you push your cart in the shopping mall!